Our origins
At the beginning of the 1960s, the winegrowers of the Penedès region didn't have many options to sell the grape harvest, for them the best way of trading  was through the cooperatives.
The target of Covides was the creation of a cooperative that would give way to the production and that would add value to the grape harvest through the  elaboration and the trading of the wine.
The Cooperative's formula not only allowed  to give way to the production of grapes but made it's members automatically responsible for its management.
In just one year, the Covides Cooperative became a social reality.
"We share lives, we share the future"
The facilities
The main issue for the cooperative was the location of the cellars where the members delivered the grapes. They had to take into account the distances, the means of transport and the transit time.
Covides' leaders agreed to build two wineries to receive the grape harvest and also to press and ferment the must: one in Sant Sadurní d'Anoia and the other one in Sant Cugat Sesgarrigues. Later, in 1991, Covides opened a grape harvest reception point in Sant Martí Sarroca, which was operational until 2006, that year the cooperative took over the winery of Vilafranca del Penedès . Nowadays, Covides keeps  all three wineries operational, and the winery in Sant Sadurní has expanded a lot as a result of the increase in activities.
The first offices were opened on March 8, 1964 at the premises in Vilafranca del Penedès located at the Plaza de San Juan. We are currently located at Rambla de Nostra Senyora number 45.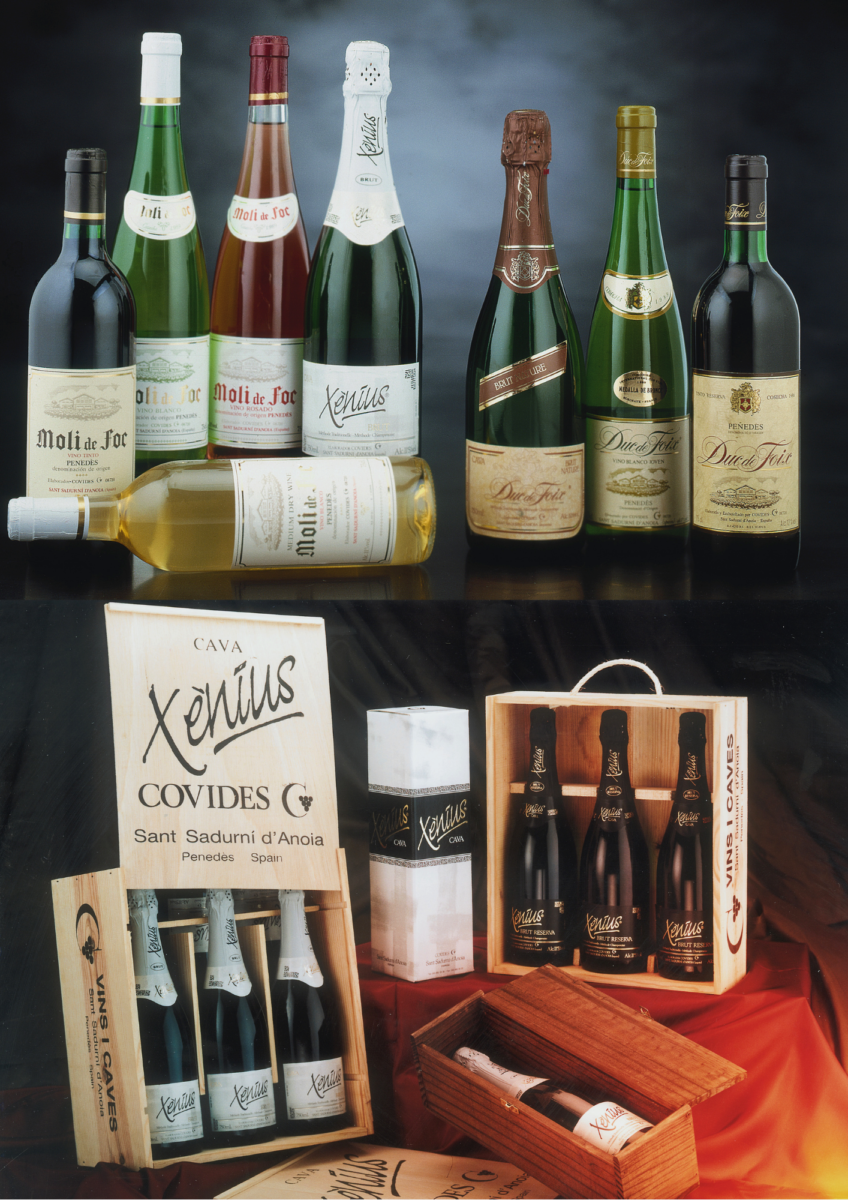 The bottling process
In order to be able to face the bottling process with guarantees of success, some fundamental questions had to be solved.
One of the most important ones was to have a space to leave the bottles of cava to rest during the second fermentation. In this sense, during the first years of cava production, cellars had to be rented for storage. The second basic issue was the creation of a commercial network with reliable distributors.
Thus, in 1984 Covides began to produce wine, thinking that a part would be bottled for trading and another small part would become cava.
A year later, Covides presented its bottled wine brands: Xènius, Molí de Foc and Duc de Foix. In 1987, the first bottle of cava under the Duc de Foix brand name was launched on the market.
Since then, everything has gone very fast. Currently, Covides has two bottling lines at the Sant Sadurní's winery, one for wine and another one for cava, there's also a third bottling line at Vilafranca's winery.